Spectator Information: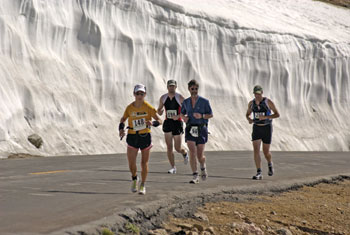 Friends, family members, and fans are welcome to cheer you on during the race since the road will be open to motor vehicles. An entrance fee will be charged by the Forest Service for all vehicles driving past the entrance station (aka, the starting line). Please be certain that all spectators drive slowly and cautiously past runners.
Spectators must begin their drive up the mountain prior to the start of the race, and may not stop or park anywhere in the first 3 miles of the run.
There is very limited spectator parking at the Mt. Evans Summit. If your spectators can assist on the way down by filling extra seats with additional runners, it will help things to run more smoothly on race day. We strongly encourage spectators to transport as many runners as possible back to the start line following the race.