Course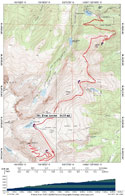 Runners will start at the Echo Lake Campground, located at the intersection of Hwy. 103(Squaw Pass Rd.) and Hwy. 5 (Mt. Evans Road). From there, the course climbs for 14.5 miles up North America's highest paved road. The course takes you through montane, subalpine, and alpine environments to the summit of Mt. Evans at 14,264 ft.

Click map image for a topographic course map and elevation profile

Cut-Off's A 2.5 hour cut-off will be in effect at Summit Lake, which is approximately 9 miles into the run. Summit Lake lies at an elevation of 12,850 feet, and is 2,250 feet higher than the starting line at Echo Lake. There will be a shuttle van at Summit Lake where you can take shelter. Summit crew will be notified of your withdrawal, and your summit bag will be brought down to the shuttle. The finish line will officially close after 4.5 hours. If you have missed a cut-off, please do not ask aid station volunteers to continue.

Aid Stations Four fully stocked aid stations will provide drinks and nourishment throughout the race. They are located approximately every 3 miles. If you need fluids or calories more frequently, please feel free to carry a bottle and fill it at our aid stations. Our aid stations are stocked with water, HEED energy drink by Hammer Nutrition, Coca Cola, Hammer Gel, Candy, Cookies, Fruit, pretzels, and electrolyte tablets.

Please visit our Spectator Page for important information all spectators need to know!