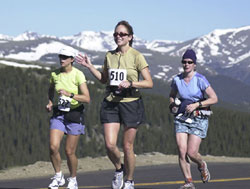 Drop Bags: All racers who are not meeting friends or family at the top are urged to send a drop-bag to the summit. Even when there are warm temperatures at the starting line, the summit can be cold, windy, and has the potential for snow at any time of year. Please send warm clothing to the summit in your drop! All summit bags must be loaded into the summit truck by 6:00 a.m.
Getting Down the Mountain: Shuttles will be provided to transport runners down from the finish line atop Mt. Evans to the start line at Echo Lake. Runners must get into the shuttles in a timely manner. In the past, we have had problems getting runners to board the early shuttles, which created lines later in the day.
We designed a new shuttle plan in 2009 which was very successful in moving finishers down the mountain. 15-passenger shuttle vans will pick runners up at the summit and transport them directly to the start line at Echo Lake.
You may also have your friends or family take you back down. If you have extra space available in your vehicle, we ask that you fill those seats with additional runners to help get everyone down as quickly and efficiently as possible. If you can help transport runners down the mountain, please let us know on your entry form.