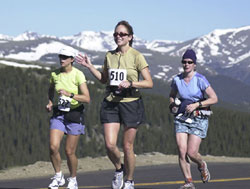 Drop Bags: All racers are urged to send a drop-bag to the summit. Even when there are warm temperatures at the starting line, the summit can be cold, windy, and has the potential for snow at any time of year. Please send warm clothing to the summit in your drop! All summit bags must be loaded into the summit truck by 6:00 a.m.
Getting Down the Mountain: Shuttles will be provided to transport runners down from the finish line atop Mt. Evans to the start line at Echo Lake. Runners must get into the shuttles in a timely manner. In the past, we have had problems getting runners to board the early shuttles, which created lines later in the day.
15-passenger shuttle vans will pick runners up at the summit and transport them directly to the start line at Echo Lake. Please board a shuttle promptly after finishing.