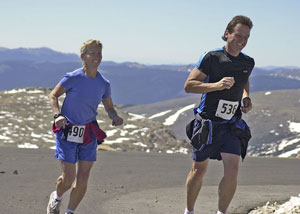 We love to receive email about the race, but please check the website for an answer before sending an email. We receive dozens of emails each day, and 90 percent of those are answered on the race website. If you can't find an answer here, then get in touch with us and we'll reply right away!
For More Information, please call Darrin or Jill at Racing Underground at 303-642-7917
Or Email darrin@racingunderground.com.
Refund Policy: Every effort will be made to hold the race, however we reserve the right to alter or shorten the course in the case of extreme weather. Once accepted, entry fees will not be refunded for any reason. No refunds or credits will be issued if the race is shortened, postponed, or cancelled due to weather or other unforeseen circumstances.
Optional Entry Insurance Policy: We will be offering an optional refund insurance program during the online registration process. If you choose to purchase the registration fee refund insurance policy, you could receive a refund of the registration fees you paid if you are unable to participate due to injury, illness, or other covered circumstances (doctor's note or other proof may be required). No refunds will be issued by the event organizers.