Racing Underground times nearly 100 running and multisport events each year using the RFID Ultra System developed in Australia. For running races, we offer convenient disposable bib-tag timing. Multisport events are timed with re-useable ankle chips on a soft and comfortable neoprene strap.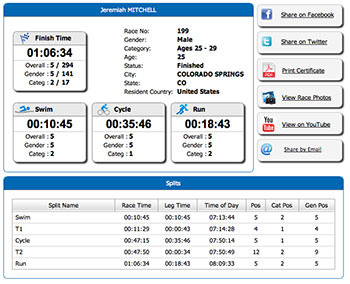 In 2013, Racing Underground began using the state of the art RaceTec timing software, which allows us to provide live searchable results, printable finisher certificates, live mobile results, personal finisher video, an interface with popular social media sites like Facebook and Twitter, and more! An announcer computer, with a live feed of race finisher info is also available for your use.
Click Here to view a sample results page, or click the image at right to see a sample of a participant's personal results page
You may also opt to request our one of a kind "Results Trailer", with three video screens that provide your choice of video results displays, participant results kiosks, time-delayed finish line video, and more.
Our standard timing package includes chip timing for your event, an inflatable finish arch or metal finish structure (style determined on an event by event basis), large digit display clock, professional sound system with cordless microphone and race music. We can also provide free bib numbers and pins through one of our partners.
You may choose to add registration, packet building (multisport), live results, timing trailer, and other options. Please visit our Extra's Page for more details.
Request a quote today to see how we can make your event a success!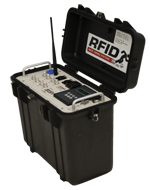 Running Race Timing Made Easy:
The RFID Ultra system was introduced in 2010, providing a convenient bib-tag system which does away with the time consuming and volunteer-intensive task of handing out and retrieving timing chips.
Intead, a small disposable timing chip is affixed to the back of the particpant's bib number. Simple! This means the race organizer will not need to provide any finish line volunteers - our staff will do it all.
Racing Underground began using the RFID system in early 2012, and we have since tripled the number of Ultra systems we own. The RFID system allows us to time a virtually unlimited number of runners, yet there is no additional fee for the disposable tags, making this an attractive option for events of all sizes.
Multisport Timing: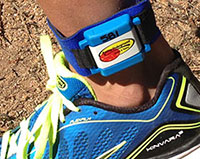 Our state of the art multisport timing chip is worn on the participants ankle using a soft, comfortable neoprene strap. The strap is included with the chip (chips and straps are washed following each event), and chips are pre-numbered for quick distribution on race morning.
Ankle chips may be read using timing mats that participants run over, or by side antennas where mats are are not practical (like cross country skiing).
Ankle chips allow Swim, Bike, Run, and Transition splits to be recorded during events where athletes change shirts and shoes. Splits for all segments of the race are included in the final results.