Racing Underground has been producing and timing running races and multisport events since 1995. Darrin and Jill Eisman, and their staff, have worked together on more than 1,000 successful events in that time.
In addition to approximately 20 events of their own, Racing Underground provides timing services for a select number of additional races each year. These slots fill quickly, with many events booking their dates a year in advance. Please contact us to see if your date is available for timing by Racing Underground.
Racing Underground uses the RFID Ultra System, developed by RFID Race Timing in Australia. For running races we offer disposable bib-tag timing, while triathlons and other multisport events utilize a re-useable ankle chip on a soft and comfortable neoprene strap.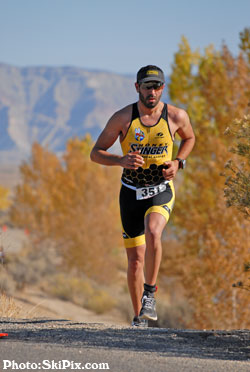 Standard Timing Package:

Chip Timing for your event
Inflatable Finish Arch or Metal Finish Truss (style determined on an event by event basis)
Large digit display clock
Professional sound system with cordless microphone and race music
Optional Bib Numbers from one of our partners
Race-Day Data Entry
Link to your website from our online regional race calendar
Results are posted on-site and live online throughout the event(if cell reception is available)
Deluxe Timing Options*:

The Racing Underground "Results Tent"

video results displays
results kiosks
time-delayed finish line video

Printable Finisher Certificates
Announcer computer with live feed of finisher data
Integrated Facebook & Twitter posting
Please visit our Technology page for details on our timing systems, software, and amazing selection of optional items.
Request a quote today to see how we can make your event a success!