Course Description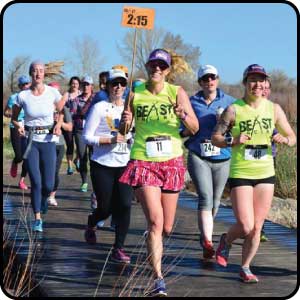 Start Time and Cutoffs: the race will start with a single wave start at 7:00am. Faster runners should line up toward the front, and slower runners and walkers toward the back. Placing for the top-3 overall will be determined by gun time. All other runners will be placed by their net time - their time will start when they cross the start mat. Please arrive on time for the start. Start mats will be turned off 5 minutes after the start. The finish line will close at noon - 4 hours and 15 minutes from the race start.
Pace Groups Pace groups make it easy to stick to your goal pace and set that PR!!! We will have pacers that will lead runners to 1:40, 1:50, 2:00, 2:15, 2:30, 2:45 and 3 hour finish times. There is no need to register for a group - just find the pacers with the sign for your goal pace, and hop in behind them.
Click Here to view the course map USATF certification is currently pending
The Three Creeks Half Marathon covers a USA Track & Field certified 13.1 miles within Denver's Cherry Creek State Park. The course covers a mix of wide and smooth dirt running trails, winding paved running paths, and a few miles of paved roads.
The course is as flat as it is scenic, with a total elevation gain of just 291 feet spread out over the 13.1 mile course. You will follow the banks of Cherry Creek, Windmill Creek, and Cottonwood Creek, with aid stations approximately every 1.5 to two miles, for a total of 8 opportunities to rehydrate - perfect for an early spring run!
Aid Stations will offer both Water and Gatorade Endurance. Gels will be available at the 6.5 and 10 mile aid stations.
Toilets will be available at the start/finish and on course at (approximately) miles 1, 2, 8.5, and 10.5
Split times will be recorded at the 5k, 10k, and 10 mile marks on the course. Split times will post live online throughout the race. (cell service is spotty at the 10k location, so there may be a delay in 10k splits posting on race morning).