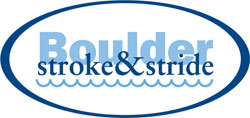 Hello Stroke & Striders! The 2013 season is just 5-1/2 months and a dozen or so snowstorms away!!! This email comes to let you be the first to know of some changes for the 12th year of the Boulder Stroke & Stride series.
The Stroke & Stride has long been one of our favorite parts of summertime in Colorado. There is nothing like the atmosphere of a beautiful Thursday evening at the Rez with several hundred triathletes joining us for a fun swim, run, pizza, and socializing.
We also have an eight year old daughter who just entered third grade - she's one of our favorite things, too :)
We have found over the past couple of years that the Colorado race season, and the school calendar don't really mesh - - she has her summer vacation, while we are working our busiest months of the year. When we finally get to relax, she's back in school.
We have been struggling for the past couple of years to find a balance, but quality family time is tough to come by with races on Saturday and Sunday, the Stroke & Stride on Thursday, and race prep every other day of the week.
So, we have decided that it is time for us to pass on the Boulder Stroke & Stride to our friends at Without Limits.
Most of you are already familiar with the Without Limits team. We have worked with Tony and Lance as their race timers for the past 5 years, and I know they will do an amazing job continuing the Thursday Stroke & Stride tradition in Boulder. We may even see you out there on the other side of the start line! Registration opens on January 1st.
Don't worry - we're not going away. We've started a new winter running series, and registration is now open for all of our new summer weekend events. Here's to a great 2013 summer!
Darrin, Jill, Marley, and the Racing Underground Crew!!!