The Crescent Moon takes place at the beautiful Aurora Reservoir! This means crystal clear water for the swim, a fun 20k or 40k bike course with eight miles that are completely closed to auto traffic, a run that is also traffic-free, and fantastic post-race picnic & expo area - all with convenient parking!
Relay Teams will receive 1 timing chip which must be transferred from swimmer to biker to runner. This exchange will take place at a designated are within the transition near the bike-in/bike-out location. Timing chips are attached to a soft, comfortable Velcro strap which must be worn on the ankle.
---
Information
For more information on the Crescent Moon Triathlon, call Darrin or Jill at 303-642-7917, or email info@racingunderground.com
---
Volunteering
Volunteers are always appreciated, and we will use more than 60 of them on race day!!!. Volunteers will receive a race tech-shirt, post race food, and a free entry into the Racing Underground event of their choice. If you are interested in volunteering, please call us at 303-642-7917.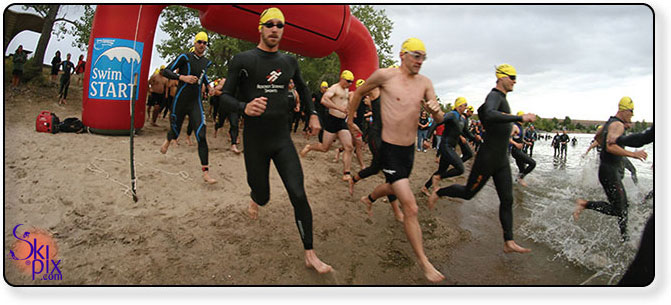 STARTING WAVE ASSIGNMENTS
Participants will start in waves of fewer than 100 participants at 5 minute intervals beginning at 8:00am. Waves are assigned by age group or division. Your age is based on your age on December 31, 2014. All participants will receive a color coded swim cap. You must wear your official Crescent Moon Swim Cap, and start in the wave designated by your swim cap color. Swim wave assignments will be announced 1 week before the event.
---
Race Day Schedule
(All Events at the Aurora Reservoir)
6:00 a.m. - Transition Opens
6:00 a.m. - Body Marking
7:30 a.m. - Pre-Race Briefing in Transition
7:45 a.m. - All Triathletes must be out of transition
8:00 a.m. - First Wave of Swim Starts
9:00 a.m. - Food & Drinks Open
11:00 a.m. - *Awards Presentation & Random Drawing
*Awards time may be adjusted depending on the number of athletes on course
---
Triathlon Awards
AWARDS: Awards are scheduled to be presented at 11:00 a.m. however this time may be adjusted depending the number of participants still on course.
Cash Awards in the amount of $250, $150, and $100 will be presented to the top-3 overall male and female finishers in the Olympic distance tri. Merchandise Awards will be presented to the top-3 male and female overall finishers in the sprint tri. Overall award winners will be excluded from age group awards.
In addition, awards will be presented in both the Olympic and sprint events, to the top-3 male and female finishers age 19 & under, and in each 5-year age group starting with 20-24.
CLYDESDALE/ATHENA:Men weighing over 220 pounds and women who weigh 165 pounds or more may choose to enter the Clydesdale or Athena divisions in place of their age group. Awards will be presented to the top-3 Clydesdale and Athena finishers. Clydesdale and Athena finishers will not be eligible for age-group awards.
RELAY TEAMS: The first place relay teams in Male, Female, and Coed divisions will receive awards in the triathlon. A Triathlon team consists of 2 or 3 participants.
You must be present to claim your award, or have another participant pick it up for you. Awards will be mailed upon request for 2 weeks following the event. A $10 fee to cover postage will be required before your award is mailed.
---
Results & Photos
---
Directions
The race site is the Aurora Reservoir, located a short drive from Denver. Spectators will be charged a $10.00 per vehicle entrance fee to the park. This fee will be waived for athletes on race day.
Non-Toll Road Directions: From I-70 or I-25 in Denver, exit onto I-225. Exit I-225 at 6th Avenue and turn east onto 6th Avenue. 6th Avenue eventually becomes Gun Club Rd. Stay on this road as it continues past Buckley AFB. Several miles later you will see signs for Quincy Ave and the Aurora Reservoir. Turn left on Quincy drive 2 miles, then turn right into the reservoir. If you are using MapQuest, the address is 5800 S. Powhaton Rd. Aurora, CO 80016
---
Packet Pick-Up
Packet Pick-up will be available on race morning only, immediately adjacent to transition. Packet Pick-up will run from 6:00 - 7:30am. If you have not picked up your packet by 7:30, you will not be able to race. Timing Chips will be included in your race packet. You must return your chip following the event. Participants who have not returned their timing chips will be charged the replacement cost for the chip. There will be absolutely no race day registration for the Crescent Moon.