Chilly Cheeks Duathlon Series #2
January 20, 2007
Cherry Creek State Park, Denver, CO
1.5 Mile Run, 4 Mile Bike, 2.5 Mile Run, 6 Mile Bike, 50 yard dash!
Conditions Soft and packed snow on run, packed snow and ice on bike.
20 Degrees and overcast
---
---
More than 100 duathletes chose to brave the mildly snowy conditions and compete in the second event in the 2006/07 Chilly Cheeks Duathlon Series.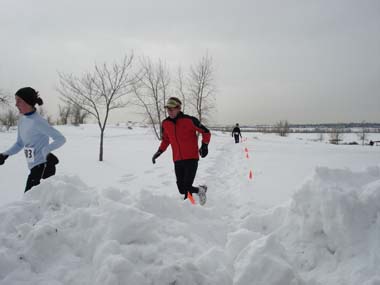 OK, it was more than mildly snowy. Anyone who has tried to maintain a decent workout schedule in Colorado this winter knows that the Denver area has been getting pounded with weekly snowstorms since a week after the first race in the series.
The December race saw a sunny day with a race temperaure in the 50's and dry pavement and trails for virtually the entire course. By contrast, Race #2 met runners with snow conditions that varied from knee-deep powder to relatively hard-packed snow.
The bike course was slippery and snowpacked for almost all of the route, leading most participants in the "Open Division" to choose a mountain bike or cyclocross bike. The Chilly Cheeks series offers two divisions - a Fat Tire division, where participants must ride a mountain bike, and an Open division, where they can choose their bike based on the conditions of the day.
Each series event features a different format totaling approximately 4 miles of running and 10 miles of cycling. This race started with a 1.5 mile run which went from a snowpacked roadway for the opening half-mile to knee-deep snow for the final mile. Next, participants completed a 4 mile bike ride to a second transition area across the park where they completed a 2.5 mile trail run on hard-packed snow.
Participants who switched shoes for running and cycling were required to carry their shoes while on the bike. Stashing of gear in T2 was strictly prohibited.
Following the second run, participants mounted their bikes for a snowy 6-mile ride before racking their bikes and sprinting the final 50 meters to the finish line, where goodies and hot chocolate were waiting.
Boulder's Laurie Mizener and Andy Palmer of Centennial led the way through the course and to the hot chocolate tent on this chilly January morning. Palmer, who thrives on conditions like these, was one of the few who braved the course on a road bike!
In a Chilly Cheeks tradition, lucky random participants are handed sponsor merchandise including Excel Sports gift certificates, GoLite clothing, and Hammer Nutrition products as they cross the finish line.
The final event in this winter's Chilly Cheeks series will take place on Saturday February 17th. It is a 10 mile Bike / 4 mile Run format.
---
Overall Results
Scroll down for Division Results

FT=Fat Tire Division (must ride a MTB)
Open=Any Bike is acceptable (choose based on weather)
Ages are calculated based on 01/01/07 for this race and for series standings



Place Name                City               St Age S Sp Time    
===== =================== ================== == === = == ======= 
    1 Palmer Andy         Centennial         CO  34 M    1:00:01 
    2 peter kyle          Boulder            CO  22 M    1:01:04 
    3 Schrader Silas      Aurora             CO  27 M    1:04:07 
    4 Campbell James      Aurora             CO  36 M    1:04:47 
    5 Oliver Edward       Littleton          CO  37 M FT 1:05:36 
    6 Versau Rob          Colorado Springs   CO  18 M    1:05:37 
    7 Louth David         Lakewood           CO  37 M FT 1:06:22 
    8 Noleen Woody        Colorado Springs   CO  51 M    1:06:55 
    9 Dillard Mark        Englewood          CO  40 M    1:06:55 
   10 Klink Brian         Aurora             CO  41 M FT 1:07:01 
   11 Voeller Chris       Denver             CO  37 M    1:07:18 
   12 Classen Galen       Denver             CO  53 M    1:08:15 
   13 Majors Paul         Denver             CO  35 M    1:08:18 
   14 Springer Shawn      Aurora             CO  37 M FT 1:10:04 
   15 pARADis Richard     Denver             CO  41 M    1:10:25 
   16 Mills Bill          Aurora             CO  50 M    1:10:57 
   17 klem jeff           lakewood           CO  41 M    1:11:46 
   18 Rorie Duane         Loveland           CO  37 M    1:11:55 
   19 Weaver Adam         Parker             CO  36 M    1:12:17 
   20 Kurtz Terry         Colorado Springs   CO  38 M FT 1:13:26 
   21 Craig Neal          Louisville         CO  29 M    1:13:41 
   22 Sanders Mike        Arvada             CO  42 M    1:14:52 
   23 Heuck James         Lakewood           CO  32 M    1:16:08 
   24 Greene Eric         Aurora             CO  26 M    1:16:19 
   25 Lancaster Gary      Highlands Ranch    CO  39 M    1:16:23 
   26 Churgovich Raymond  broomfield         CO  41 M FT 1:17:12 
   27 Fisher Chris        Golden             CO  32 M FT 1:18:02 
   28 Mizener Laurie      Boulder            CO  37 F    1:18:10 
   29 Wieck Sonja         Greenwood Village  CO  27 F FT 1:18:17 
   30 Franklin Lyn        Denver             CO  39 F    1:18:20 
   31 Cameron Eric        Lakewood           CO  40 M FT 1:18:57 
   32 Tracy Tim           Superior           CO  30 M    1:19:03 
   33 Kelble David        Golden             CO  47 M FT 1:19:07 
   34 Paradis Lilia       Denver             CO  24 F    1:19:34 
   35 Wyatt Jacob         Longmont           CO  37 M FT 1:19:52 
   36 Robichaud Jon       Denver             CO  29 M    1:20:13 
   37 Rockenbach Randall  Colorado Springs   CO  45 M    1:20:23 
   38 Trujill Skyler      Ft. Collins        CO  14 M    1:21:06 
   39 Smith Carrie        Zanesville         OH  29 F    1:21:22 
   40 vonGraffenberg Dere Centennial         CO  31 M    1:21:26 
   41 Savago Justin       Eagle              CO  34 M FT 1:21:34 
   42 Klanjsek Milan      Denver             CO  44 M    1:22:28 
   43 Eves Rod            Conifer            CO  43 M    1:22:59 
   44 Reinsch Kevin       Golden             CO  39 M    1:23:13 
   45 shelden nancy       Silverthorne       CO  42 F FT 1:23:28 
   46 Dondero Darren      Littleton          CO  36 M    1:23:56 
   47 Kiefer Kelly        Boulder            CO  29 F    1:24:03 
   48 Pardoe Tony         Longmont           CO  44 M    1:24:17 
   49 Baker William       Denver             CO  34 M FT 1:24:46 
   50 Felkers Viktor      Denver             CO  37 M    1:24:58 



Place Name                City               St Age S Sp Time    
===== =================== ================== == === = == ======= 
   51 Franklin Ethan      Denver             CO  40 M FT 1:25:01 
   52 Hero Nathan         Denver             CO  28 M    1:25:13 
   53 Ridgway Diane       Arvada             CO  58 F    1:25:30 
   54 Kleeman Vinnie      Greenwood Village  CO  14 M    1:25:32 
   55 Kelly Robert        Littleton          CO  38 M    1:25:59 
   56 elliott chris       lafayette          CO  30 M    1:26:16 
   57 Forbert Tim         Bailey             CO  50 M    1:26:31 
   58 Sulzen Nicole       Littleton          CO  29 F    1:26:36 
   59 Jeter Lukas         Denver             CO  33 M    1:26:48 
   60 Biggs C. Arthur     Englewood          CO  37 M    1:27:08 
   61 Oliver Michelle     Littleton          CO  35 F FT 1:27:34 
   62 Stives Tobin        Denver             CO  33 M FT 1:27:34 
   63 Williams Andrew     Littleton          CO  27 M FT 1:28:20 
   64 Orcutt Paige        Littleton          CO  16 F FT 1:28:20 
   65 vonGraffenberg Jill Centennial         CO  30 F    1:28:28 
   66 Ebhert Mike         Woodland Park      CO  38 M FT 1:29:12 
   67 Ratner Paul         Parker             CO  43 M    1:29:47 
   68 Leenaerts Sean      Highlands Ranch    CO  43 M    1:29:49 
   69 Hurley Megan        Littleton          CO  34 F FT 1:30:00 
   70 Orcutt Jim          Littleton          CO  47 M FT 1:30:21 
   71 Brown Alex          Denver             CO  39 M FT 1:30:50 
   72 Bliven Christine    Denver             CO  37 F    1:32:16 
   73 Shanks Andrew       Virginia Beach     VA  22 M FT 1:32:16 
   74 Argenzio David      Englewood          CO  38 M    1:32:44 
   75 Strebe Peter        Ft. Collins        CO  49 M    1:33:34 
   76 Rasor Bruce         Arvada             CO  60 M    1:34:26 
   77 Spindler Christine  Littleton          CO  35 F    1:34:27 
   78 Gessford Greg       Littleton          CO  29 M FT 1:35:04 
   79 Houston Christopher westminster        CO  40 M    1:35:14 
   80 BRUNTSCH STEFAN     AURORA             CO  41 M    1:35:20 
   81 Mallon Trey         Denver             CO  39 M    1:35:29 
   82 Hartman Diane       Golden             CO  44 F    1:35:36 
   83 Archuleta Lisa      Littleton          CO  34 F FT 1:35:39 
   84 Thurnen John        Centennial         CO  52 M FT 1:37:22 
   85 Joga Chuck          Aurora             CO  42 M FT 1:38:10 
   86 Swain Sara          Superior           CO  29 F FT 1:38:12 
   87 Wilson Janice       Lakewood           CO  44 F    1:39:08 
   88 Lenane Judith       Foxfield           CO  48 F    1:39:55 
   89 Haynes Rob          Golden             CO  55 M    1:40:04 
   90 Snyder Tambrey      Golden             CO  38 F    1:40:55 
   91 Chase Adam          Boulder            CO  40 M FT 1:42:10 
   92 Snyder Shawn        Golden             CO  38 M    1:42:55 
   93 Lammert Jodi        Denver             CO  34 F FT 1:43:00 
   94 Kimmel Wendy        Colorado Springs   CO  28 F    1:43:00 
   95 Elliott Michael     Englewood          CO  41 M    1:43:15 
   96 Weber Mary          Golden             CO  48 F    1:44:31 
   97 Bearss Joseph       Dacono             CO  36 M FT 1:44:39 
   98 Sprindler Brook     Littleton          CO  35 M    1:44:52 
   99 Evearitt Claire     Broomfield         CO  33 F    1:47:40 
  100 Symons Kerry        Aurora             CO  32 M    1:50:50 


Place Name                City               St Age S Sp Time    
===== =================== ================== == === = == ======= 
  101 Shonstrom Amy       Denver             CO  57 F    1:51:20 
  102 McElwain Cathy      Westminster        CO  35 F    1:54:59 
  103 Thoman Kimberly     Parker             CO  42 F FT 1:55:32 
  104 Camacho Joseph      Thornton           CO  30 M FT 1:55:34 
  105 Betschart Bruce     Littleton          CO  58 M FT 1:56:29 
  106 Duncan Paula        Aurora             CO  42 F FT 1:57:32 
  107 Kuhnlein Kyla       Denver             CO  27 F FT 2:03:22 
  108 HUNSINGER DANA      DENVER             CO  36 F    2:05:53 
  109 LaSarre Vanessa     Littleton          CO  33 F    2:06:41 
  110 Kostner Barbara     Lakewood           CO  58 F    2:07:00 
  111 Stratton Brandi     Brighton           CO  25 F FT 2:07:41 
  112 LaBarre Nicole      Lafayette          CO  25 F    2:13:09 
  113 Welle Joseph        Lafayette          CO  25 M FT 2:13:09 
  114 Dempsey Joseph      Highlands Ranch    CO  57 M FT 2:16:46 
  115 Stanley Cassandra   Elizabeth          CO  33 F    2:22:08 




Division Results

Open Division athletes may ride whatever bike the weather dictates
Fat Tire Division Athletes Must Ride a MTB


                     MALE OPEN DIV. AGE GROUP:  0 - 39
    1     1 Palmer Andy          34 Centennial         CO 1:00:01 
    2     2 peter kyle           22 Boulder            CO 1:01:04 
    3     3 Schrader Silas       27 Aurora             CO 1:04:07 
    4     4 Campbell James       36 Aurora             CO 1:04:47 
    5     6 Versau Rob           18 Colorado Springs   CO 1:05:37 
    6    11 Voeller Chris        37 Denver             CO 1:07:18 
    7    13 Majors Paul          35 Denver             CO 1:08:18 
    8    18 Rorie Duane          37 Loveland           CO 1:11:55 
    9    19 Weaver Adam          36 Parker             CO 1:12:17 
   10    21 Craig Neal           29 Louisville         CO 1:13:41 
   11    23 Heuck James          32 Lakewood           CO 1:16:08 
   12    24 Greene Eric          26 Aurora             CO 1:16:19 
   13    25 Lancaster Gary       39 Highlands Ranch    CO 1:16:23 
   14    32 Tracy Tim            30 Superior           CO 1:19:03 
   15    36 Robichaud Jon        29 Denver             CO 1:20:13 
   16    38 Trujill Skyler       14 Ft. Collins        CO 1:21:06 
   17    40 vonGraffenberg Dere  31 Centennial         CO 1:21:26 
   18    44 Reinsch Kevin        39 Golden             CO 1:23:13 
   19    46 Dondero Darren       36 Littleton          CO 1:23:56 
   20    50 Felkers Viktor       37 Denver             CO 1:24:58 
   21    52 Hero Nathan          28 Denver             CO 1:25:13 
   22    54 Kleeman Vinnie       14 Greenwood Village  CO 1:25:32 
   23    55 Kelly Robert         38 Littleton          CO 1:25:59 
   24    56 elliott chris        30 lafayette          CO 1:26:16 
   25    59 Jeter Lukas          33 Denver             CO 1:26:48 
   26    60 Biggs C. Arthur      37 Englewood          CO 1:27:08 
   27    74 Argenzio David       38 Englewood          CO 1:32:44 
   28    81 Mallon Trey          39 Denver             CO 1:35:29 
   29    92 Snyder Shawn         38 Golden             CO 1:42:55 
   30    98 Sprindler Brook      35 Littleton          CO 1:44:52 
   31   100 Symons Kerry         32 Aurora             CO 1:50:50 

                    FEMALE OPEN DIV. AGE GROUP:  0 - 39
    1    28 Mizener Laurie       37 Boulder            CO 1:18:10 
    2    30 Franklin Lyn         39 Denver             CO 1:18:20 
    3    34 Paradis Lilia        24 Denver             CO 1:19:34 
    4    39 Smith Carrie         29 Zanesville         OH 1:21:22 
    5    47 Kiefer Kelly         29 Boulder            CO 1:24:03 
    6    58 Sulzen Nicole        29 Littleton          CO 1:26:36 
    7    65 vonGraffenberg Jill  30 Centennial         CO 1:28:28 
    8    72 Bliven Christine     37 Denver             CO 1:32:16 
    9    77 Spindler Christine   35 Littleton          CO 1:34:27 
   10    90 Snyder Tambrey       38 Golden             CO 1:40:55 
   11    94 Kimmel Wendy         28 Colorado Springs   CO 1:43:00 
   12    99 Evearitt Claire      33 Broomfield         CO 1:47:40 
   13   102 McElwain Cathy       35 Westminster        CO 1:54:59 
   14   108 HUNSINGER DANA       36 DENVER             CO 2:05:53 
   15   109 LaSarre Vanessa      33 Littleton          CO 2:06:41 
   16   112 LaBarre Nicole       25 Lafayette          CO 2:13:09 
   17   115 Stanley Cassandra    33 Elizabeth          CO 2:22:08 

                    MALE OPEN DIV. AGE GROUP:  40 - 49
    1     9 Dillard Mark         40 Englewood          CO 1:06:55 
    2    15 pARADis Richard      41 Denver             CO 1:10:25 
    3    17 klem jeff            41 lakewood           CO 1:11:46 
    4    22 Sanders Mike         42 Arvada             CO 1:14:52 
    5    37 Rockenbach Randall   45 Colorado Springs   CO 1:20:23 
    6    42 Klanjsek Milan       44 Denver             CO 1:22:28 
    7    43 Eves Rod             43 Conifer            CO 1:22:59 
    8    48 Pardoe Tony          44 Longmont           CO 1:24:17 
    9    67 Ratner Paul          43 Parker             CO 1:29:47 
   10    68 Leenaerts Sean       43 Highlands Ranch    CO 1:29:49 
   11    75 Strebe Peter         49 Ft. Collins        CO 1:33:34 
   12    79 Houston Christopher  40 westminster        CO 1:35:14 
   13    80 BRUNTSCH STEFAN      41 AURORA             CO 1:35:20 
   14    95 Elliott Michael      41 Englewood          CO 1:43:15 

                   FEMALE OPEN DIV. AGE GROUP:  40 - 49
    1    82 Hartman Diane        44 Golden             CO 1:35:36 
    2    87 Wilson Janice        44 Lakewood           CO 1:39:08 
    3    88 Lenane Judith        48 Foxfield           CO 1:39:55 
    4    96 Weber Mary           48 Golden             CO 1:44:31 

                    MALE OPEN DIV. AGE GROUP:  50 - 99
    1     8 Noleen Woody         51 Colorado Springs   CO 1:06:55 
    2    12 Classen Galen        53 Denver             CO 1:08:15 
    3    16 Mills Bill           50 Aurora             CO 1:10:57 
    4    57 Forbert Tim          50 Bailey             CO 1:26:31 
    5    76 Rasor Bruce          60 Arvada             CO 1:34:26 
    6    89 Haynes Rob           55 Golden             CO 1:40:04 

                   FEMALE OPEN DIV. AGE GROUP:  50 - 99
    1    53 Ridgway Diane        58 Arvada             CO 1:25:30 
    2   101 Shonstrom Amy        57 Denver             CO 1:51:20 
    3   110 Kostner Barbara      58 Lakewood           CO 2:07:00 

                     MALE FAT-TIRE AGE GROUP:  0 - 39
    1     5 Oliver Edward        37 Littleton          CO 1:05:36 
    2     7 Louth David          37 Lakewood           CO 1:06:22 
    3    14 Springer Shawn       37 Aurora             CO 1:10:04 
    4    20 Kurtz Terry          38 Colorado Springs   CO 1:13:26 
    5    27 Fisher Chris         32 Golden             CO 1:18:02 
    6    35 Wyatt Jacob          37 Longmont           CO 1:19:52 
    7    41 Savago Justin        34 Eagle              CO 1:21:34 
    8    49 Baker William        34 Denver             CO 1:24:46 
    9    62 Stives Tobin         33 Denver             CO 1:27:34 
   10    63 Williams Andrew      27 Littleton          CO 1:28:20 
   11    66 Ebhert Mike          38 Woodland Park      CO 1:29:12 
   12    71 Brown Alex           39 Denver             CO 1:30:50 
   13    73 Shanks Andrew        22 Virginia Beach     VA 1:32:16 
   14    78 Gessford Greg        29 Littleton          CO 1:35:04 
   15    97 Bearss Joseph        36 Dacono             CO 1:44:39 
   16   104 Camacho Joseph       30 Thornton           CO 1:55:34 
   17   113 Welle Joseph         25 Lafayette          CO 2:13:09 

                    FEMALE FAT-TIRE AGE GROUP:  0 - 39
    1    29 Wieck Sonja          27 Greenwood Village  CO 1:18:17 
    2    61 Oliver Michelle      35 Littleton          CO 1:27:34 
    3    64 Orcutt Paige         16 Littleton          CO 1:28:20 
    4    69 Hurley Megan         34 Littleton          CO 1:30:00 
    5    83 Archuleta Lisa       34 Littleton          CO 1:35:39 
    6    86 Swain Sara           29 Superior           CO 1:38:12 
    7    93 Lammert Jodi         34 Denver             CO 1:43:00 
    8   107 Kuhnlein Kyla        27 Denver             CO 2:03:22 
    9   111 Stratton Brandi      25 Brighton           CO 2:07:41 

                     MALE FAT-TIRE AGE GROUP:  40 - 49
    1    10 Klink Brian          41 Aurora             CO 1:07:01 
    2    26 Churgovich Raymond   41 broomfield         CO 1:17:12 
    3    31 Cameron Eric         40 Lakewood           CO 1:18:57 
    4    33 Kelble David         47 Golden             CO 1:19:07 
    5    51 Franklin Ethan       40 Denver             CO 1:25:01 
    6    70 Orcutt Jim           47 Littleton          CO 1:30:21 
    7    85 Joga Chuck           42 Aurora             CO 1:38:10 
    8    91 Chase Adam           40 Boulder            CO 1:42:10 

                    FEMALE FAT-TIRE AGE GROUP:  40 - 49
    1    45 shelden nancy        42 Silverthorne       CO 1:23:28 
    2   103 Thoman Kimberly      42 Parker             CO 1:55:32 
    3   106 Duncan Paula         42 Aurora             CO 1:57:32 

                     MALE FAT-TIRE AGE GROUP:  50 - 99
    1    84 Thurnen John         52 Centennial         CO 1:37:22 
    2   105 Betschart Bruce      58 Littleton          CO 1:56:29 
    3   114 Dempsey Joseph       57 Highlands Ranch    CO 2:16:46